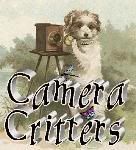 Hi, Blackie here,

We like to spend our mornings in here, in the patio. Lately there has been a friend that comes to visit outside.





Can you see him? He looks just like me! but he's much smaller...





Oh yeah... I have to be on guard in case he comes and attacks my little brother!



Love, Blackie