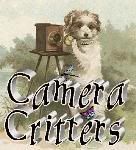 Bob here,
I don't understand why mommy keeps putting more of that paper stuff in the hallway. Blackie keeps tearing up stuff and daddy gets mad, but mommy knows how much blackie loves to play in it. So, she found some more old wrapping paper stuff and put it in the hallway. Here's what happend:



he's such a silly kitty!




Instead of playing catch and baseball with mommy (yes, he likes to run around and the wrapping paper is his home plate), he now runs to the paper and then goes INSIDE it... he thinks mommy can't see him but she can.. hehe! blackie won't move at all, except his tail makes noises when he's happy... every time she says BLACKIE! , his tail moves....

Ok, that's the end of my story.

Bob.