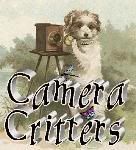 Blackie here! Mommy took these photos of me sleeping and wanted me to tell you all the story - she said that i was fast asleep on bob's blankie, and that all of a sudden i started to make sucking noises... she says i do this a lot, that i dream that i'm sucking on bob! (I used to suckle on bob all the time, until he told me NO MORE!).


Here's a close up...




Here's a photo of me and Bob. Bob just came home from the vet again. This time he had to get an asthma shot. Mommy says he seems much better now. In this photo we are spending time together, as we are best friends. Mommy missed a photo op when me and Bob were touching heads and we were holding paws....



Ok, that is all for today.

Love, Blackie