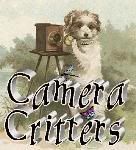 Blackie here! Mommy wanted to post more photos of me today, since she went to the trouble of taking these photos the past few days. She is really happy to see how happy I am, knowing how it took me a while to get used to the new living arrangements, and I didnt' quite trust anyone. One of my favorite spots when I want to be alone is daddy's office chair. I like it cuz it's black like me!





I also wanted to show you my favorite toy, which I have to drag along with me when i move around the house. I also like to play fetch if mommy throws my toy down the hall. I will play with it, bat it with my paws, and then will pick it up with my mouth and bring it to her. I like it when she praises me! (Good Blackie!). then i will run off again when she throws it. She thinks I'm just like a dog, but I dont think so. I'm much cuter than a Dog!





Well, I better go now. I need to make myself look cuter...


Love, Blackie.