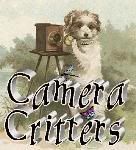 Hi everyone, Blackie here!

Mommy wanted to show everyone how much I've grown up since we first moved in with Mommy and Daddy back in February. Check out this older Camera Critters series: See Charlie holding Blackie. Daddy is trying to hold me but I dont like it. This was when I was much younger! (Ok a few months younger).

Now I'm older, and here is the proof - I actually let Daddy hold me now! Look!




Well, you get the idea....... And now it's time for my nap........ Good night!
Love, Blackie