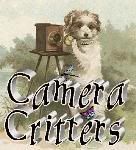 Hi everyone! Blackie here..

Mommy wanted me to put pictures up of her friend Rainie's kitty, Teddy. Teddy was this cute siamese kitty that went to the Rainbow Bridge at a very young age. I think he was maybe no more than 10 years old. Teddy's mommy and daddy are devastated that he is gone, and miss him so much. Here is a photo of him and his brother Geepers, during better days.






Mommy also wanted me to show you all pictures of a new member of Rainie and Eric's family, Rocky. Rocky, so i've been told, looks just like Alice, who went to the Rainbow Bridge in January. (Me and Bob live here now because mommy and daddy miss Alice so much). Anyway, they think Rocky is cute. But I say i think i look cuter!

Anyway, here are photos of Rocky doing his thing ...





Well, that's it for this week. Good night!

Love, Blackie...