Blackie here!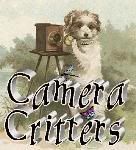 Well, it's a HAPPY NEW YEAR to you all, as me and mommy pose for the camera. We've been busy so have not been around, but we wanted to wish everyone a happy new year. January 7, 2008 was our first day at the San Diego's shelter (the one that is sponsored by Joan Kroc, whoever she is.. but she must be nice since our home there was very very beautiful)....... A month after that our new mommy and daddy fell in love with us and brought us home ,and we are still here today (knock on wood!).





Well, ok.. you can see how much I love to be held! (why do they always do this to me?)



Love ,Blackie


PS - I can't forget a photo with my brother Bob. He likes to beat me up but I still love him.