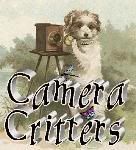 Hi everyone! Bob here... I saw all those Blackie photos last week, so I told Blackie today is my turn!

Do you see me in this first photo? Well, me and Blackie were fighting one morning and Blackie was stuck behind the curtains. Well, as he tried to attack me, got tangled in the whtie curtains, and the whole thing fell on us and on the couch. (sure scared the hell out of mommy!!) Daddy said to leave it there. Then, Mommy noticed that I liked to sleep here, so they left the curtains there and now I have a new bed!


Here's another view of me in my bed... I love it because it's like my own secret place.



Here I am!!


Anyway, that's my story for today. I hope you come back soon!

Bob.