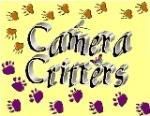 Hi everyone, Blackie here!

Mommy had a friend visit on Friday and she took so many photos of me. her name is Sandy and she lives in Pittsburgh, but she comes to California at least once a year to visit someone or other. Friday she came to visit me! Well, ok, she came to visit mommy, but mommy also wanted Sandy to meet me and Bob. here is me in Daddy's arms while Sandy tries to pet me.


Here's a photo of Mommy and Sandy, and do you see sneaky Bob in the background? He always has to get into the picture!



Ok, that's it for this week. Sorry it wasn't more exciting. Mommy is always catching me lying on my back, so she keeps taking the same photo over and over... she always misses when i'm playing with my bags (I like to hide my head in them and move around) or chasing my favorite toys. She thinks I'm must like a doggy, always running and fetching my toy and then I bring it to her!

Ok, talk to you all later...

Love, Blackie